DRAMA CLASSES IN BELFAST AND ANTRIM
COURSE CONTENT
Drama is about doing and our drama classes in Belfast and Antrim ensure that the process of performing arts is paramount.
Typically our drama classes involve mime, improvisation, group activities and small performances within each group. These are non-competitive and students are not graded or awarded marks for any work they do. Other classes contain a mixture of dance-drama and improvisation acting techniques.
All class return information below:
All in-person classes to launch on Monday 10th January.
Belfast Term Fees: £9 per hour (plus insurance).
For more info please contact: info@youthlyric.co.uk for Belfast enquiries
admin@youthlyric.co.uk or antrim@youthlyric.co.uk for Antrim enquiries
Downloads: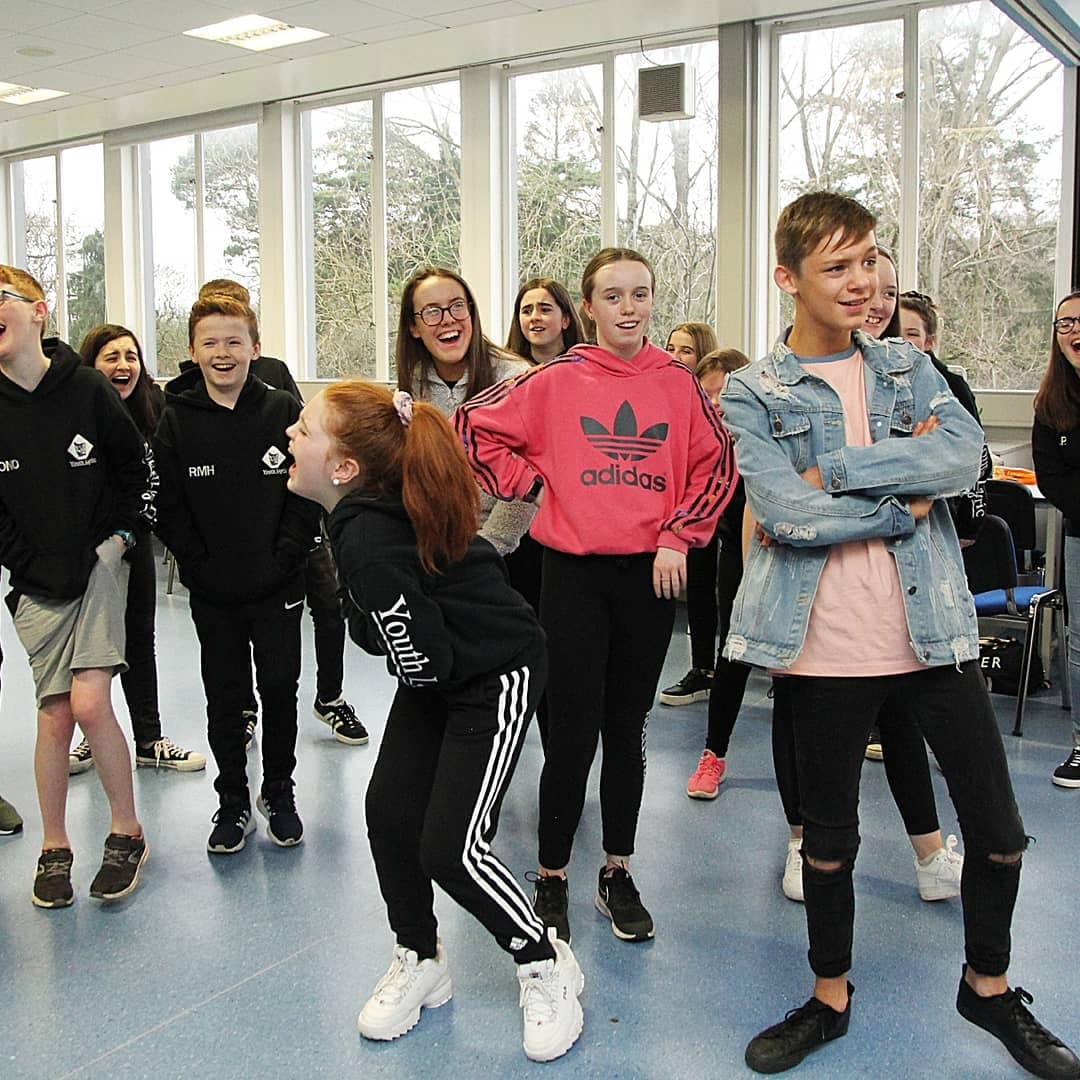 Antrim Grammar School:
P3-P7 Tuesday 4-5pm Antrim Grammar School Drama
Yr8-12 Tuesday 5-6pm Antrim Grammar School Drama
Stranmillis University College:
P4-P7 Monday 5-6pm  Drama
Yr8-12 Monday 6-7pm  Drama
P4-P7 Thursday 5.30-6.30pm  Drama
Yr8-12 Thursday 6.30-7.30pm Drama
P4-P7 5-6pm Stranmillis University College Drama/Dance
Yr8-12 Friday 6-7pm Stranmillis University College Drama/Dance
Yr13+ Friday 6-7.30pm Stranmillis University College Drama
Bloomfield Collegiate
Yr8-12  Wednesday 3.45-4.45pm Drama (Bloomfield pupils only)
Orangefield Presbyterian Church:
Wednesday 4.30-5.30pm – DRAMA/DANCE – P4-P7
Strathearn School:
Friday 3.30-4.30pm – DRAMA/DANCE – Y8-14 (Strathearn pupils only)
Strandtown Primary School:
FRI 1.45-3.00PM  DRAMA/DANCE P4-P7 (Strandtown pupils only)
FEES & SCHOLARSHIPS
The fees are as follows; 
£9 per hour
Antrim
Stranmillis
Orangefield
Strathearn
Some financial scholarships are available for students in financial difficulty. Priority goes to families with more than one child attending Youth Lyric classes. A scholarship form can be obtained by contacting our administrator Rachel Robinson at info@youthlyric.co.uk and dealt with in the strictest confidence. No-one in Youth Lyric classes knows who is on a scholarship and we encourage individuals to apply for the small number of full scholarships and a greater number for half scholarships which are won throughout the year.
ENTRY REQUIREMENTS
There are no formal entry requirements for Youth Lyric.
The most important thing is that students want to come and join us. Everyone is entitled to a taster session when they can decide wether participation in Youth Lyric is for them. Many students come to Youth Lyric classes with experience of school plays and work in professional productions. However, many of our pupils join Youth Lyric with no experience, just a healthy interest in the subject area. This is equally acceptable and valuable.