Our Mission
Youth Lyric's mission is to provide the very best quality education experience for young people from every background in Northern Ireland.
About Us
We provide excellence in Performing Arts training-enriching the lives of our students, whilst promoting self-confidence and personal development.
We are committed to providing a unique and valuable experience for young people through the employment of highly qualified professional tutors with a track record of achievement in education and the Performing Arts industry.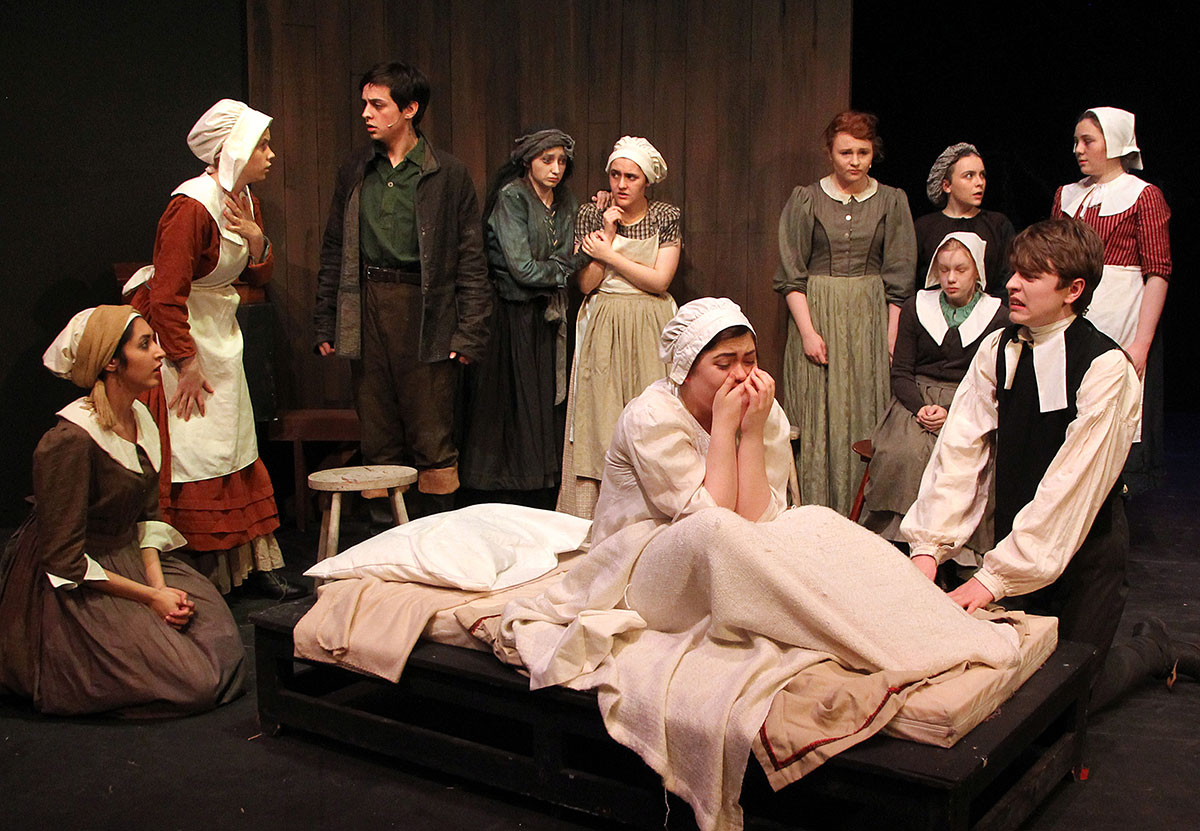 OUR HISTORY
Youth Lyric is one of the biggest performing arts schools in Northern Ireland with over 300 students attending weekly classes in Belfast and Antrim.
Young people from all areas of Belfast attend classes. Students also attend from Armagh, Lisburn, Downpatrick, Randalstown, Carrickfergus, Carryduff, Crumlin, Glengormley, Holywood, Bangor, Whiteabbey, Dundonald, Stoneyford and Saintfield.
Towards the end of the 1993/94 academic year we became aware that there was a substantial interest in the performing arts in the Antrim area and classes were started in Clotworthy Arts Centre in Antrim.
Arthur Webb was director of Youth Lyric for 15 years until 1993. He saw the academy grow from a small two class unit to a thriving eight class drama school with a waiting list for places in all groups. In September 1993 Aidan Browne, a former Youth Lyric student in the late seventies and Youth Lyric tutor since 1986, was appointed as director.
In August 2002 Youth Lyric became an independent arts organisation, following a decision by the board of the Lyric Theatre to withdraw financial support for our work.
The smooth running of the school is due to the partnerships between students, parents and Youth Lyric staff. We greatly value the ongoing support and encouragement of Youth Lyric parents.
OUR AIMS
One of our Principal aims at the Youth Lyric is to give young people a greater self confidence and increased communication skills.
It is our firm belief that the skills acquired through study of the preforming arts; confidence, assertiveness and ability to meet deadlines, are life skills that can transfer into a variety of professional and social situations. We value every student and want each one to reach full potential and greatly enjoy their time with us.
OUR FACILITIES & RESOURCES
Youth Lyric runs classes in public buildings which are clean and well heated and our primary concern is for the security and safety of our students.
We ask that all those driving cars exercise caution when dropping off and collecting students. We also request that students are collected promptly at the end of classes.
We have had a number of generous sponsors over the years, including Belfast City Council, Belfast Metropolitan College, the Enkalon Foundation as well as local businesses such as Paul Foster and Sons Removal, Kainos, Chocolicious, People 1st, The Beauty Salon, Worthingtons Solicitors, Movie House, Blush Boutique, People Plus NI, Citigolf, Carolyn Stewart Pickles, Grafton Recruitment, Diamond Recruitment, Hillmount Nursery, U105, Beannchor, Plantscape Office Plants, CD Diamond  & Co Accountants. We always welcome financial support and support in kind and are happy to discuss associations. Please contact info@youthlyric.co.uk for further information.
Scholarships
Youth Lyric endeavours to be all-inclusive and for this reason, we have a limited number of scholarships available for students in financial difficulty. These quotes show how much the scholarships mean to those who receive them.
"We have found Youth lyric invaluable! As a mother of a boy who doesn't like football or any ball /team sports, drama has been an amazing outlet. He feels part of a team and has so much fun. His confidence has really grown and for someone who hated uniforms of any kind, he loves his youth lyric hoodie."
"My daughter attends Youth Lyric on a bursary. Let me tell you a little bit of background about us. I have been a single parent from day one, my daughter is my only child, and I work part-time so money is very tight. My daughter loves drama and really wanted to go to Youth Lyric. I was worried about the cost. We researched Youth Lyric and we learnt that bursaries were available. My daughter joined Youth Lyric and we were very lucky to be given a bursary. Youth Lyric has been an amazing experience for my daughter. She is completing exams which are very important for her future, she is being taught something she loves by people who are so dedicated to bringing out the best in each and every child and more importantly, she comes home from her class and her eyes are just dancing with happiness. This bursary has meant so much to our wee family. Financially it has eased the burden for me and it is confidential which is very important but more importantly, I know that my daughter loves being part of the Youth Lyric family and you can't put a price on that. Every child deserves the chance to be the best that they can be and the happiness of knowing that they belong regardless of their background and Youth Lyric really deliver that. Thank you to everyone at Youth Lyric Campus."
"Having a scholarship fund with Youth Lyric has had a huge impact on my daughter as she is able to join an after school activity that she really wanted to do. She has always wanted to take part in drama but due to the expense, I had felt it wasn't viable until I heard about the scholarship fund with Youth Lyric. We are delighted to be able to use this facility & especially with such a well-respected group. My daughter has got so much from the group, thoroughly enjoys it & seems to be doing pretty well. She has been fortunate enough to take part in both a festival & the company performance of Titanic in less than a year. It is wonderful that we have both been given this opportunity & are very grateful for it."
"I've been getting the Youth Lyric bursary now for three years. I wouldn't have been able to send my daughter otherwise. I'm a single parent to two fabulous children, my daughter attends Youth Lyric on a Monday evening and it has given her the most amazing confidence. She loves her drama and the new friends she has made. It brightens up my day to see her coming out with a big smile on her face, after her session. I couldn't thank Youth Lyric enough for helping me, it has been a huge weight lifted off my shoulders financially. Thank you to all the amazing staff involved."
To apply for our scholarships: